LED CHINA Industry Exhibition Shanghai Station, which is known as the trend setter of LED industry development, was held in Shanghai New International Expo Center from September 18 to 20, 2019. LED CHINA, Commercial Integration China, Retail China 2019, DIGITAL SIGNAGE 2019, SIGN CHINA 2019, five major industrial exhibition were held at the same time. As one of the leading enterprises in the signage lighting industry, Rishang Optoelectronics (Booth No. E2-C02) made a brilliant appearance once again.
As a leading enterprise in LED advertising sign lighting, Rishang Optoelectronics always focuses on LED technology research and development and product innovation in the field of advertising signage lighting. The exhibition focused on the display of solutions and applications in LED advertising signage, advertising light box and neon LED flex strip, attracting many customers at home and abroad to visit the booth and discuss cooperation.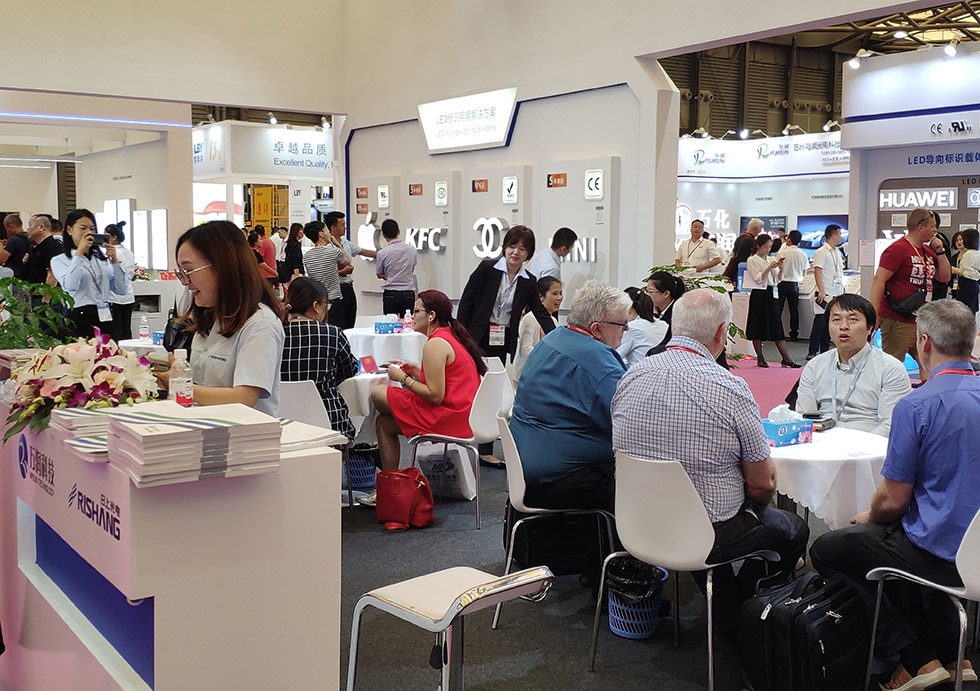 Exhibit series 1: LED signage lighting products
LED signage module as the most competitive products in Rishang Optoelectronics, with multiple product series, has many advantages, such as one-piece structure design, high-end appearance, high luminous efficacy, long life, large beam angle, high IP rating of IP68, can be widely used in LED signage lighting, to meet the different needs of customers.
Exhibit Series 2: LED light box lighting products
As one of the core products in Rishang Optoelectronics, LED rigid bar has bat wing beam angle with secondary optical design, which perfectly solves the problem of ripples, with clear picture and good advertising effect. Two kinds of advertising light box lighting products, high-voltage LED rigid bar and low-voltage spread reflection LED rigid bar were exhibited in this exhibition.
Exhibit Series 3 : LED strip lighting products
The super long cascading LED light strip which can meet the requirement of cascading quantity up to 50 meters, neon LED flex light strip, dual color temperature & multi-color series LED light strip were exhibited in the exhibition.
Rishang Optoelectronics is committed to promoting the extensive application of LED products in the field of advertising signage lighting industry, aiming at creating greater value for customers, and continuously strengthening cooperation with partners, creating greater economic and social benefits for customers!
Exhibition Name: 16th Shanghai International LED Exhibition
Exhibition Time: September 18-20, 2019
Venue: Shanghai Pudong New International Expo Center
Booth: E2-C02